All Updates will appear at the bottom as they happen.
Hello Rogers,
It has been awhile since I have been a Rogers internet customer.  I remember the terrible customer service on all levels and the inability of any single Rogers employee to resolve an issue on their own. I saw your new internet packages and thought I would switch back from Bell to get the 250u Ignite deal.
After this new experience with your install process I can say that you have taken the period of me being a Bell customer and used that time to truly perfect the art of terrible customer service.
Wednesday March 18th
Technician 1 arrives, plugs the modem into the wall, attaches the coax cable and I ask if this unit has the AC wifi and he says "this one does it all".  So I specifically ask if it is the top model and he then says no and that this one was just as good.  He then runs out the door before the modem is even booted up.  Modem is the N model.
I run a speed test.  90 down 10 up.  Not the correct speed. So I call into technical support to see what is wrong.
Technician says my connection works fine. He claims the reason that the speed is slow is because the work order on my install has not been completed.  He says he needs to transfer me.  I questions why it would run at half speed in that case. He transfers me to customer service.
I speak with customer service.  She tells me that the work order is complete and after checking a few things and obviously not knowing how to fix the issue says that I need to wait 30 mins after plugging a modem into the wall for it to get to full speed.  I questions why it would need 30 mins to increase the speed and she says to wait 30 minutes and then to call back if it's not up to speed.  An obvious punt but I am not going to argue because she obviously can't fix the issue.
I wait the 30 mins, just in case she wasn't punting me and call into Technical support again.  This technician tells me that there are various types of cat5e cables and that I need to swap out the cable. I correct him by saying that there is only one cat5e and maybe he is confusing cat5e and cat5 but that my cable is in fact cat5e, as required. This obviously goes nowhere and I realize I sound like a jerk even arguing this point and I swap the cable.  No change in the results.  Meanwhile he is insisting that my speed is supposed to be 250/10 and I said that the package is 250/20.  We go back and forth a few times but I know it is going nowhere so I give up.
Time:  73 minutes (not including time technician was at my place since he left so quickly)
Thursday March 19th
A tech is scheduled to come to my place again today to look at the lines.  He arrives with his test gear and a laptop and this is good because the first tech had neither of those things.
He tests with his laptop and his special line tester.  Cable looks good. Signal looks good.  Still at 90/10.
Swaps out the modem. Still 90/10
He calls his support line.  They confirm I am on the right package and that there is nothing wrong on their end.
Technician tells me there is nothing wrong with the lines and nothing wrong in the computer and there is nothing else to be done.  He calls his supervisor who tells him to plug the modem power into the wall instead of my power bar.  Same result
He tells me that whenever Rogers releases a new service it is glitchy and that if I just wait awhile then the speed should eventually come up.  Couple of weeks should do it. I mention that the 250 service has been around for months and it is just the Ignite name that is new. He leaves.
I call into technical support.  I tell him everything that has been done to troubleshoot.  They run through all the steps again.  He repeatedly claims I should only have 250/10 and I tell him the package is 250/20 but that it doesn't matter because I am getting 90/10.  After a while he determines that yes he is going to escalate the issue.  He claims I should get a call in 24-48 hours from a technician.  That is where I am now.
Time: 17 mins + 30-40mins for technician visit. 
As you can see, this would appear to be a perfectly coordinated effort to screw with me and yet I know it isn't   You have it set up so that each employee can only do one thing and in some cases, they don't even know how to do it.  I am not going to threaten to cancel because I want the 250 speed and no one else offers it.  I really did expect the bad customer service because I know that you can never call Rogers just once. Anytime you call Rogers for anything you must call at least twice because your agents will screw something up the first time.  I fully expect to have to call back in after the connection speed is fixed to fix my bill.
The best part of this is that you are charging me for this service.  Install and activation fee? Yes please!  I am considering sending you a cheque for $1000 to come to my place and kick me in the balls but we'll have to conclude this transaction first.
In summary, I expected bad service.  The bad service coupled with the agents that cannot or simply refuse to attempt to resolve the issue was a surprise. You have truly shown the world how being the only game is town allows you to not give a shit about your customer service.  Impressive.
Saturday March 21st

Rogers attempted to help through twitter yesterday.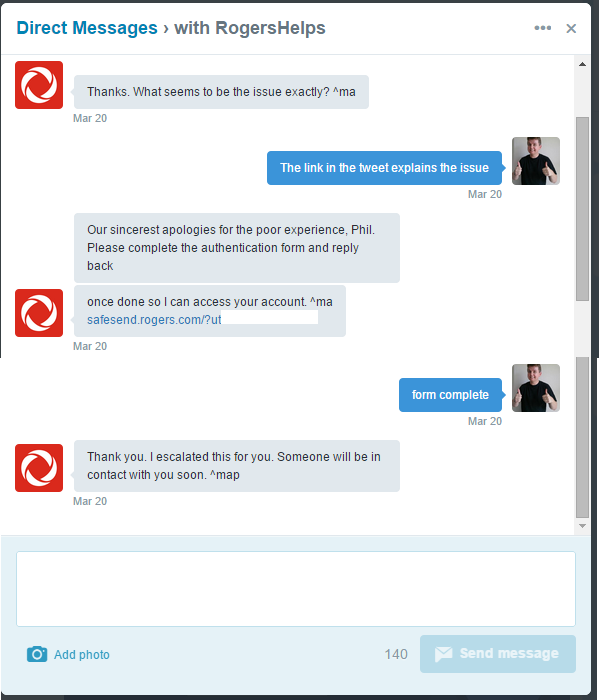 The image is poorly shopped to fit all the messages.  I only cut out my my phone number.
So yes you were so concerned about my tweet that you wanted to know the problem.  Although you didn't read the tweet because it has all the details (this post).
I did get a call while I was in a meeting at work yesterday.  Perhaps it was a Rogers rep?  No message was left and no one called back.
It is now Saturday at 9 am. Current status: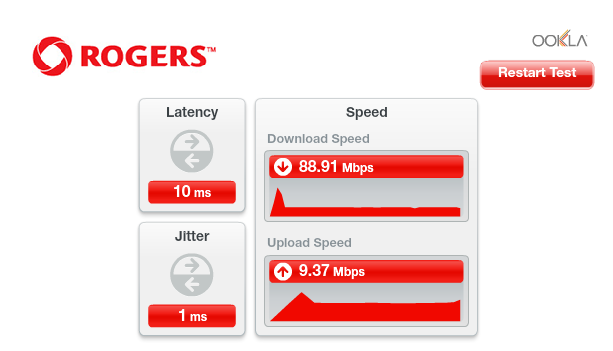 I expect that anyone that can fix this issue is probably off for the weekend.
Sunday March 22nd
I received a tweet from RogersHelps yesterday telling me that someone had left me a voice mail on Friday. To check I actually dialed into my voice mail box which I had not done in a year or two.  Normally any voice mails I gets are sent to me as text with an audio clip attached.  When I remembered my password and logged into my mail box there was a message from the "Office of the President" (OP) there.  So the reason I didn't get the voice mail was because my Rogers  voice mail service didn't work properly which I found pretty funny.   I called them back and spoke with someone there.  They agreed that, so far, I had not received good service.  They informed me that they would look into the issue and call me back but that a technician would need to be sent out.
They claimed that this time they were going to send a senior technician.  I told them that the second technician that had arrived claimed to be a senior technician.  The rep was surprised by this.
The rep from the OP then said that I should be getting the speeds that I pay for at 250/10.  I mentioned to her that everyone there keeps saying that it is 250/10 so it must be in their system somewhere written like that but the service is actually 250/20 on their website.  I suggested that either the website was incorrect or their internal systems were.  She said she agreed that one was wrong and that she would look into it.  Rogers.com website, for the record: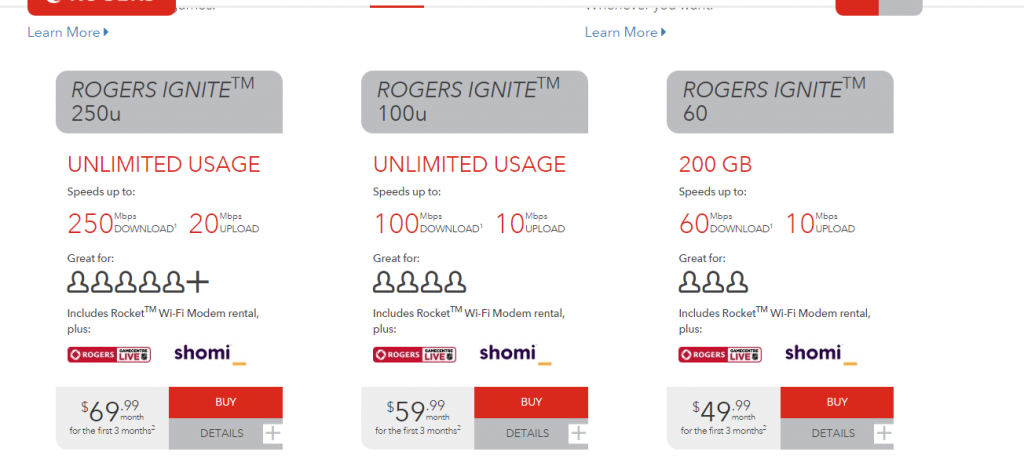 This morning I got a call at 9 am that sounded at first like a telemarketer because the line was silent for 5-10 seconds before the robot voice came on.  It informed me that Rogers appreciates my patience and that they are still looking into my issue.  Rogers robocall! First time I have had one of those.
Monday March 23rd
I got another robocall from Rogers today.  In its half automated half bored human voice it told me that my issues have all been resolved.  It also gave me Rogers' full mailing address in case I wanted to contact them. Maybe it didn't trust that my internet or phone would be working.   At home I tested what the robot told me.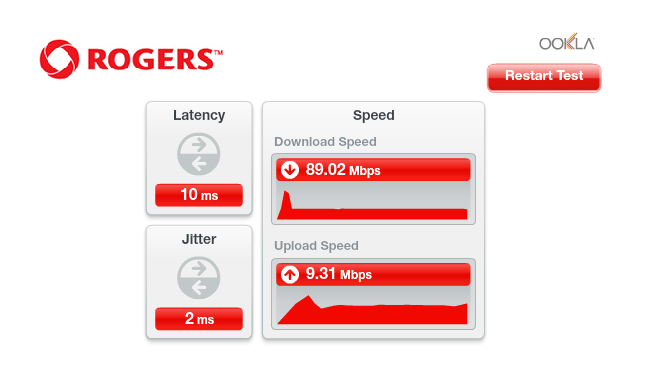 Turns out the robot lied to me.  Nothing has changed.  The hilarious part is that I don't even have to make things up to make Rogers look bad.  I just need to keep documenting the normal customer service.
I have not yet received a callback from the Office of the President.
Tuesday March 24th
I heard nothing from Rogers today.  I called back into the Office of the President at around 4:05 pm.  They close at 4 pm.  I left a voice mail.
I suppose I could have called back into your tech support but I didn't feel like spending another hour on the phone power cycling my modem.
My speed is still 90/10.
Wednesday March 25th
I called into the OP today and they said they did not have a technician appointment for me yet but they were looking into it and that they would call me back.  Rogers is going to send an in-house technician rather than a contractor and hopefully they can find some answers.  All possible remote tests have been performed and no problems have been found.  I should hear back from the OP tomorrow with my appointment date.
I have also been told that my first month of service is going to be free.
Thursday March 26th
Today I have some average news and some good news.
The average news is today Rogers called me 6 times and threw a lot of excuses at me. Got my hands on some audio recordings.  Since I am lazy, here you go!
I cut out silences and names.
So now the good news.  Speed test when I got home was similar but I then ran another test at about 10:30 pm and…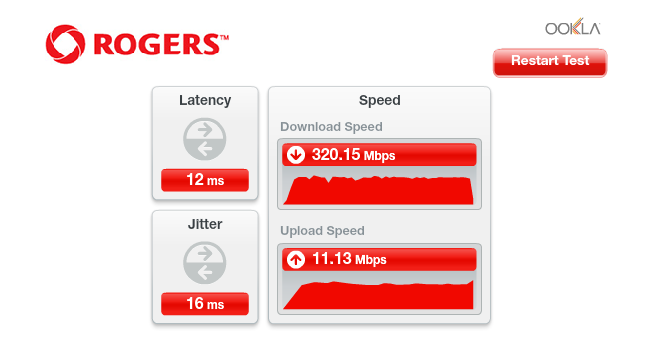 Wow, they really fixed the hell out of the download speed!  Upload is still a bit low but I am fine with that for now. I called and left a voice mail for the OP to cancel the technician.
To be clear, everyone I dealt with was polite and I can't really fault them.  In most of the cases if they didn't know something it was because they were never trained on/told it.  I do wish they would refrain from making things up when something doesn't work out.
Final Review 
When that speed test finally hit 250 and then jumped up past it I was pretty happy.  I have tested some downloads out on the Steam network and the transfer speeds I am getting are unreal. Yes, it was kind of a pain to get the service up and running but I had a connection the whole time; it wasn't like I was without internet. I recommend you get this service if you like to download things stupid fast.
TL;DR Of Whole Post
Rogers Ignite 250u is crazy fucking fast.  Get it.
Update:  I ended having so many problems with Rogers customer service that I tried to switch to the slower Bell service but their customer service was brutal. Their internet connections are fine but their customer service is beyond bad.  I have settled on a smaller company that leases lines from Rogers.  In a way Rogers is still getting my money but at least they get less of it.